A Caregiver's Guide to Daily Needs Assessment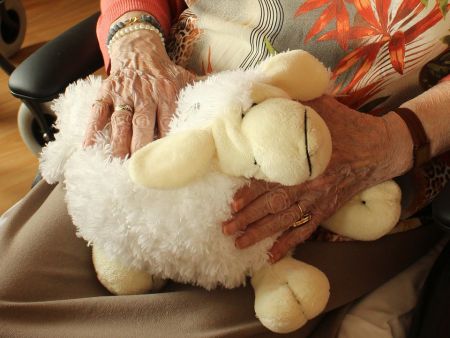 Tending to the needs of an aging loved one is a challenge. And making a proper assessment is a vital tool for caregivers to promote a senior's independence and safety. With proper evaluation, you can meet the needs of your senior loved one directly and effectively, easing your burden and gaining more peace of mind.
What to evaluate
Some
medical experts suggest
looking carefully at how much independence your loved one demonstrates in performing Activities of Daily Living (ADLs). These activities comprise the basics of personal self-care, such as eating, dressing, bathing, grooming, and using a toilet. You may be able to make this evaluation yourself, or you may talk with your senior about how much help is needed in performing these basic actions. You can use a checklist to assist in making your evaluation, such as the
Katz Index of Independence
in Activities of Daily Living. Gauge how independent your loved one is and how much assistance is required in completing activities.
Additional criteria
Beyond those most basic activities, you may want to assess some additional criteria. Some
professionals suggest
taking into account activities such as money management, food preparation, housekeeping, handling medications, and being able to run errands such as grocery shopping.
Supportive services
Once you have a clear understanding of what activities your loved one needs help with, you can work to effectively meet those needs. Meeting needs efficiently means you not only enhance your loved one's independence, but you can also alleviate unnecessary work on your part and give yourself peace of mind. Sometimes community services such as meal delivery programs and transportation services bolster your loved one's independence dramatically.
Living area assessment
After making an evaluation of your senior's abilities, make a careful assessment of the living area. Ideally, you can ensure your loved one's needs are met for current health and ability, as well as future needs as capabilities decline. Consider a one-floor living arrangement in which a bedroom, bathroom and kitchen are available on the same level. At least one entryway to the home should be free of steps. The entire area should offer good lighting; add light fixtures and additional lamps, install brighter bulbs, and add nightlights as needed. Staircases require added consideration and should have lights and switches at both landings as well as railings on both sides. Cabinets and shelving should be reached easily without bending or stretching. When necessary, caregivers may decide the need is significant enough to warrant home modifications to promote continued safety and independence.
Danger zone
Bathrooms are an especially hazardous area in the home, spurring 235,000 visits to American emergency rooms annually. Because of the dangers associated with bathrooms, Redfin recommends modifying the area for added safety: "Safety rails with textured grips, shower seats, transfer seats, and roll-in showers are also
valuable options
to make bathing safer and easier for your loved one. A single lever for the faucet is usually easier to turn and operate than two separate knobs, so consider a new faucet head if necessary."
Other considerations
Beyond the bath and general living areas, the
AARP
suggests a number of potential modifications to increase independence for your aging loved one.
Kitchen
Raise the dishwasher to reduce bending.
Install a drawer-style or side-by-side refrigerator.
Ensure there is at least one seated work area.
Install pull-down or pull-out shelves, or drawers that close automatically.
Add lighting over the sink and stove.
Laundry
Choose a front-loading washer.
Place the dryer, washer and other work areas at easy-to-reach heights.
Throughout the home
Install glow-in-the-dark light switches.
Choose nightlights that are light- or motion-activated.
Install a thermostat that is easily read.
Increase lighting on porches, exterior walkways and in driveways.
Assessment is key
In order to meet the needs of your aging loved one, it's vital to have a good understanding of what those needs are. Make a thorough evaluation of how much assistance your senior requires, then make accommodations to best meet those needs. By making a good assessment, you can improve your loved one's independence and ease your caregiving burden.
---
Sometimes people find themselves caring for their growing children as well as aging parents. So long as it is the routine concerns are the visits to doctor's appointments, banking, grocery shopping, church and family gatherings, a caregiver can do both.

Sometimes people find themselves caring for their growing children as well as aging parents. So long as it is the routine concerns are the visits to doctor's appointments, banking, grocery shopping, church and family gatherings, a caregiver can do both.
In my own life, I started to care for my parents after they moved close enough for me to look in on them. My mother had had a total hip replacement and her replacement was wearing out. My dad was well into the middle of Alzheimer's disease so whereas he had willingly given up his Driver's License, he no longer recalled that he had. When my mother fell and went into the hospital, my dad came to live with me. His condition was such that it was unwise and unsafe for him to be on his own.
Having him sleeping on my sofa bed in my living room was at first only temporary. Dad's Alzehimer's disease had parts to it which made me very tired. He liked to take long naps during the day, although I stayed at home while raising my children, those naps meant he wandered in my house at night. And he got into a lot of trouble. Early Alzheimer's is where the forgetting is intermittent but much of your judgment remains intact. So early Alzheimer's is easier for a caregiver to cope with. At night time, Dad would open my freezer and open cans of frozen orange juice as though he was eating ice cream. But he could have easily turned on my stove. We started making plans for how to manage with Dad but Mom wasn't going to be able to walk for a long time.
We had a house constructed near them, just basically crossed the street. My mother who was sensible didn't like the idea of us all living together. But as her condition did not improve in the hospital, we altered plans as the builder constructed the home to be a home for both of them as well as my husband and our three sons. With all the care Mom would need and to keep Dad safe and secure, we thought it would be the best thing.
My mother's condition deteriorated and she went into a coma. They had done another hip replacement and it had become infected. She lost so much blood during trying to cleanse the infection from the leg that it deprived her brain of oxygen. She became more mentally dysfunctional than my Dad was. And then as I worked on a project for my church, my dad fell on me and in a few days I learned the extent of my injuries: I was physically unable to lift very much and I have had many back issues since then though not as severe. We had to place Dad in a nursing home. At the time they had one for dementia patients and Alzheimer's patients so it was a blessing it was so close.
My mother, before she bled so and lost her reasoning ability, had made a living will for the care of my father so their finances were well taken care of. She made a living trust with the office of Mark Thompson in Lancaster, CA.
Dad had been temporarily at the nursing home after he had fallen while the doctor's felt his convalescence would be too difficult for my mom before her fall. This time after my injury, I saw how very wonderful it was for Dad to be with people who knew exactly how to care for Alzheimer's patients. As I healed, I would visit and bring a portable keyboard to play for my dad and the other residents of the nursing home. I sang too. Music stimulated my dad to want to talk. By the time of my mother's death (six months after her fall) my Dad no longer recognized her. He thought she was his mother. I would bring him with me on my visits to see Mom but it was difficult in that he'd get so confused in the bathrooms. I'd care with me cleaning supplies. When you are female and taking care of an opposite sex parent, people can't understand why you are in the restroom with your dad. Fortunately, there were unisex bathrooms at the hospital where we visited with my mom.
The best book I read during caring for my dad was "The 36-hour Day". It doesn't sound like a reasonable life. And I had very little time to read anything. My main concern before Dad fell on me was to not lose concentration on my driving which could have hurt us all.
Not to say that there weren't times when my dad lived with us that we didn't have good times. Over the summer when the new house was being constructed, the boys were all in Little League and my dad loved going to the games. Happiness peals back the fog of an ailing memory better than a medication. He helped carry the sporting equipment and helped ever so well with also eating the pizza after the games.
I had the care giving issue on my shoulders alone but it was then also shared by my husband and sons. My sister lived in Iowa at the time and didn't move back to California until after both of our parents were dead. When I said that I depended upon my husband and sons, though we'd take Dad for walks with the dog and my sons (my husband was usually at work), we all made conversation with dad. Exercise is good for keeping oneself alert but it helps those with Alzheimer's too be at their best. And then I'd have to ask the boys to watch grandpa for a few minutes I had to go to the bathroom. I would only shower when my husband was able to sit with him.
During that time, I didn't check my mail without locking everything I could and with my stove and oven controls in my pockets. Still, you can't think of everything. I set one bathroom up for Dad and then the rest of us used the "clean" bathroom. Dad no longer understood about toilet paper. And that is as nice as I can explain it. I had invested in brown towels with three sons but that hid the grime of having sons, it also hid things I wanted to see. There are many things one does not expect when you are a care giver.
I found out about an Alzheimer's Day Care being run at the local Lutheran Church in town and there was a bus service for Dad so he could go to "his club" a few times a week. This allowed me to shop or to have a dentist appointment or eye appointment, etc. for myself or for the kids as well as to be a parent volunteer in my children's classrooms. I'd tuck Dad's bus fare where the driver knew he's always find it in his left front shirt pocket. And if it wasn't there, the fee wasn't that much, so I'd reimburse the driver when he's drop Dad off. The bus was punctual so even in cold weather, we didn't have to wait long and the drive always got Dad home on time without fail.
I didn't find an Alzheimer's Support Group at the time when Dad lived with us. But after we placed him in the nursing home, I'd attend a weekly meeting. I was the youngest person there as all the others who attended were spouses and not sons or daughters who lived there. Still we had much in common: feeling that we were now parents and not a child or a spouse was common.
From the time Dad was first diagnosed with Alzheimer's Disease to when he finally died of it, was about fifteen years. I cared for him in my home about six months intermittently and about a year and a half on a daily basis. Even though I wept bitterly having to put dad in a facility, I felt I had failed in my responsibility to him even though I often walk with a cane and the wheelchair I keep in my bedroom isn't there because it is decorative. After I adjusted to Dad being away, I was able to catch up with what I had put off doing in helping my sons with school work and science projects and doing crafts with our local group of Royal Rangers (a scouting group similar to Boy Scouts but with our church).
At the time I cared for Dad and even after he went into a nursing home, I did not have a computer which had much internet and even when we did get one, what it had on it for resources for caregivers was exceedingly limited. But now there are many resources.
As we age, we become more sensitive to medications and they do not clear out of our blood stream as quickly. So looking for lowering blood pressure with diet rather than with medication helps to stop at least that much fog on the brain. My dad had both blood pressure and diabetic issues. He lost weight and his blood pressure and diabetes were no longer a problem. The doctor agreed with me that less medication or ideally, no medication, was best for him. What he did get was a daily aspirin to help prevent stroke and a multiple vitamin. Both of these we provided to the nursing home to give him.
Kathy Honeyman asked me to write this for her. And it has been a great pleasure getting to know both Julie and Kathy Honeyman. These two are my angels, they are compassionate and wise beyond their years. I have seen how much they do to help people in their time of need.
Please remember that no matter even with care at home, that may not always work eventually. Knowing that there are very good alternatives where you can continue to be an active part in your loved one's life is important for peace of mind.
Julie and Kathy Honeyman can also help you find caregiver resources and other care the loved one may need. During this time of change, finding a resource such as I found for my dad where he had "his club" he went to, also allowed me to tour facilities and to see what I might have to do if I was not able to care for my dad.
I had two of the greatest parents on earth. But God has given me two of the very best friends in Kathy and Julie Honeyman.
They've also allowed me the privilege to create this website for them.
I hope you will discuss with Julie and Kathy all your options so that whether it is continuing care in your home or eventual placement, you will manage all of that one step at a time.
Sincerely,
Sally Bode